FREE SHIPPING ON PARTS AND ACCESSORY ORDERS ABOVE $100
YDX-MORO Pro
With suspension that is optimized to evenly spread grip between the front and rear of the bike for greater traction on the trail and buttery smooth feel when riding over anything that trails can throw at you, all-mountain has become every-mountain.
Enter your ZIP code to see options for delivery or pickup.

THE SPEED OF TRUST
7 LEVELS
160mm TRAVEL
150mm TRAVEL
Highlights
PW-X2 Control Switch
Our sleek and newly designed PW-X2 control switch maintains the ergonomic and tactile feel found on our other bicycles while adding a push assist feature button.
Dual Twin™ Frame
Combining hydroforming and forging techniques, our patented Dual Twin™ frame design provides precise handling and surrounds both rear shock and battery resulting in security, protection and a low center of gravity full suspension frame.
All-New Modes
Our NEW MTB mode offers a direct feeling assist suited for pedaling through tight corners and riding technical lines while AUTO support mode automatically switches between ECO, STD, and HIGH to provide optimal assist according to ride conditions.
160mm Fork Travel
Easily tuned for a custom, buttery smooth feel, the 160mm travel fork maintains a higher ride height for ultimate confidence when riding steep and rough terrain.
Battery Cover
Protected in the lower cage of the Dual Twin™ frame is our 500wh battery protected by our subframe battery jacket.
Integrated Dropper Post
Push lever control allows you to adjust your saddle height from your handlebar. A quick push of the lever allows you to lower your center of gravity so you can descend, corner, and jump more easily.
27.5+ Wheelset
With internal rim width of 40mm, our Yamaha-designed 27.5+ alloy wheelset is built with Boost hub spacing for a more direct chainline in the rear wheel and wider hub flange for increased spoke strength to the rim.
PW-X2 Drive Unit
Now with an angle sensor for use in our All-New Auto support mode, new helical driven gears for less noise, and brand new programming to support an increase cadence support (now up to 170rpm) and the added push assist feature.
Speed Sensor Rear Hub
Exclusive to Yamaha Power Assist Bicycles is a speed sensor engineered into the rear hub. Our speed sensor recognizes the slightest change in bicycle speed and helps adjust motor input to deliver a smooth and natural power assist feel for the ultimate ride experience.
Specs
Key Information
Yamaha 500Wh with Charge-life indicator and Self-diagnosis display
Multilocation with anti-vibration mounting plate
Weight 6.61lb
500Wh 36V
4-hour charge time
PW-X2
Center mount
ISIS splined spindle
Quad Sensor System with integrated speed sensor as part of rear hub
Weight: 6.83lb
Rated power: 250W (Nominal), 500W (Max)
Max torque: 80Nm
Max cadence support: 170rpm
Max speed support: 20mph
Support modes: ECO, STD, HIGH, EXPW, AUTOMATIC (ECO-STD-HIGH)
Protective motor cover included
CONTROL SWITCH AND COMPUTER
Computer control functions include: (5) Power-level control switch, plus AUTOMATIC support mode, control switch, stop watch, distance units, power-level LED on/off, Bluetooth™ connectivity, USB power, USB connectivity, cycling function display items, time adjustment, 3-color LED power assist level light indicator and push assist button
Cycling function display include: speed, average speed, maximum speed, trip distance, odometer, cadence, battery capacity (%)
Yamaha Dual Twin Frame
Tapered headtube
Internal cable/housing routing
2-bolt motor mount
12 x 148 rear spacing
Integrated speed sensor harness
RockShox YARI RC Boost 160mm
Tapered aluminum steerer, 1 1/8in - 1 1/2in
RockShox Super Deluxe Select +
210mm/55mm
150mm travel
Integrated tapered headset with headset spacers
Yamaha Alloy 4-bolt faceplate
35.0 diameter
40mm length
Alloy 30mm riser bar
35.0mm diameter
780mm width
Alloy 30.9mm dropper post (S/M) 125mm travel, (L) 150mm travel
Key Information
Yamaha Anti-slip finish with hand rail tail
Front: N/A
Rear: SHIMANO XT Long-Cage
Magura MT30 Front/Rear: 4-piston
203mm Storm CL Rotors
Yamaha 27.5+ Alloy
Tubeless tape installed
Width: 46mm (OUTSIDE) 40mm (INSIDE)
Anodized
Centerlock brake mount
15X110 Boost, rear hub 12 x 148 Hyperglide freehub and Yamaha Bicycles Speed Sensor
Maxxis High Roller II 27.5 x 2.8in
Tubeless compatible rim
Tubeless compatible rim strip
Geometry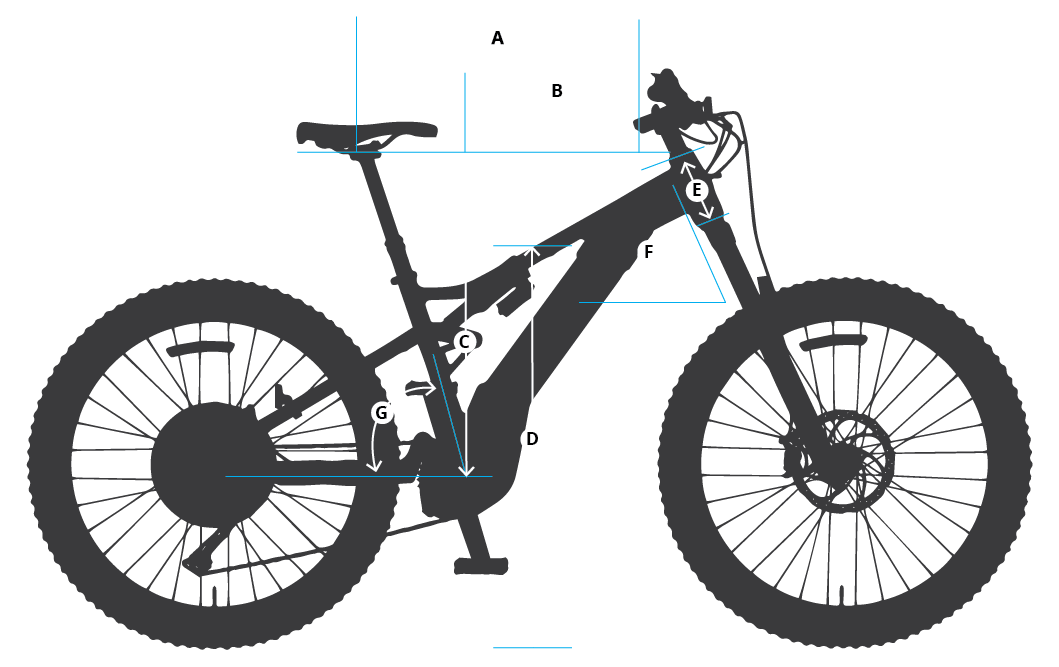 SMALL
MEDIUM
LARGE

A

TOP TUBE (mm)
572
619
666

B

REACH LENGTH (mm)
388
432
478

C

STACK HEIGHT (mm)
611
619
624

D

STANDOVER HEIGHT (mm)
746
755
763

E

HEAD TUBE LENGTH (mm)
111
120
125

F

HEAD TUBE ANGLE
66.3°
66.3°
66.3°

G

SEAT TUBE ANGLE
70.3°
70.3°
70.3°

H

HANDLEBAR WIDTH (mm)
780
780
780

I

CRANK ARM LENGTH (mm)
170
170
170

J

SEAT POST LENGTH (mm)
412
459
459
Ride with confidence! Learn more about Yamaha's excellent warranty coverage.