FREE SHIPPING ON PARTS AND ACCESSORY ORDERS ABOVE $100
YDX-MORO 07
Fortune tellers will be looking for new jobs when this bike hits your trails. With geometry enchanted to help you predict the future and power delivery characteristics that will raise your spirits, the YDX-MORO 07 will inspire you to go for one more loop.
Enter your ZIP code to see options for delivery or pickup.

BORN ON THE STARTING LINE, BUILT FOR THE TRAIL
7 LEVELS
150mm TRAVEL
160mm TRAVEL
Highlights
Reduce Your Screen Time
Whether you're challenging your physical endurance in ECO mode or discovering the place where ultimate control and performance meet the trail in EXPW mode, the super minimalist communication display of the Interface X is there for what you need and nothing you don't.
Engineered Purpose
This buttery smooth rear shock with 15 clicks of rebound adjustment, dual-level compression quick switch, and adjustable air pressure options result in a positively bespoke suspension experience.
Sightless Controls
Minimalist aesthetics require unquestionably exceptional design to meet functional performance requirements. The All-New Interface X meets those demands with intuitive movements to access power assist levels, walk assist, and automatic support modes in a bantam weight c
Obsessed with Speed
Helping to deliver the most smooth and powerful assist available today, our PW-X3 Quad Sensor's rear hub speed sensor is high technology hidden in plain sight.
One-Finger Stopping
Outstanding stopping performance with the absolute best possible modulation requires only one finger. Feel the ultimate braking power of one-piece construction in the 4-Piston front and rear calipers paired with radial design master cylinders.
Patented Dual Twin Frame
Your frame is the most powerful structure of your bicycle. Yamaha's patented Dual Twin construct combines hydroforming and forging techniques to create a frame to protect components with uncompromised riding control.
Centralized Mass and Low CG
A combination that creates a near-perfect weight distribution for ultimate control on the ground or in the air.
More Gears!
Increased shifting precision with reduced derailleur travel and additional gears in the "sweet spot" for riders to find the best balance of power and cadence.
Lightning Fast, Feather Light
ALL-NEW PW-X3 mid drive motor is our smallest and lightest to date and ensures you the best power to weight ratio with jaw dropping responsiveness and smooth power delivery now with Garmin Edge 530, Edge 830, and Edge 1030 compatibility.
Specs
DUAL BLUE | RAVEN SILVER | SPECIAL EDITION
Key Information
Yamaha 500Wh with Charge-life indicator and Self-diagnosis display
Anti-Vibration Mounting Plate
Weight: 6.61 lbs
500Wh 36V
Re-charge time: 1-hour 80%, 4-hour 100%
YAMAHA PW-X3 Class 1 Labeled
Centermount
ISIS Splined Crankarm Spindle
YAMAHA Quad Sensor with Automatic Support and Walk Assist Modes
Rate power: 250W (nominal), 500W (maximum)
Max torque: 85Nm
Max speed support: 20MPH
Support Modes: ECO, Standard, High, MTB, Extra-Power, Automatic, Walk Assist
CONTROL SWITCH AND COMPUTER
YAMAHA Interface X Control functions include: 3-color LED support-mode level light indicator, (5) Support-mode control switch, plus AUTOMATIC support mode (Aqua LED indicator) and Walk Assist mode (Purple LED indicator), Bluetooth™ connectivity, 3-color LED support-mode level light indicator, LED brightness adjustability, battery capacity (4-LED capacity indicators)
YAMAHA Dual Twin Frame
Tapered
Headtube

Internal cable/
housing routing
2-bolt
drive unit mount
12x148
rear axle spacing

Integrated
YAMAHA speed
sensor
harness
ROCKSHOX LYRIK SELECT
160mm TRAVEL
35mm Stanchions
Charger RC damper with Low-speed Compression and Reboundadjust
Compatible with RockShox premium short fender
Upgradeable to new Pressure Relief Values via RockShox
ROCKSHOX SUPER DELUXE SELECT +
Custom tuned for YAMAHA YDX-MORO 07
150mm travel
210X55mm DebonAir+ air spring with 15 clicks of rebound adjustment, 2-position compression adjustment
Integrated tapered 1 1/8" - 1 1/2" (30mm of spacers)
Alloy 4-both faceplate
35.0 diameter
40mm length
Alloy
35.0
diameter
780mm width

30mm
rise
TRANS-X dropper post 30.9 dia.
TRAVEL (S) 125mm (M) 150mm (L) 170m
Key Information
YAMAHA anti-slip finish with hand rail tail
MAXLE 15MM X 110MM BOOST THRU AXLE
Front: N/A
Rear: SHIMANO XT RD M-8100-SGS
PRAXIS E-CRANK ARM 165mm LENGTH
Shimano XT CS-M8100-12
12-spd (10-51T)
MAGURA MT5 4-PISTON F/R 203MM CENTERLOCK ROTOR (F/R)
Single-Finger lever
YAMAHA 27.5+ Alloy
Tubeless tape installed
Width: 46mm (outside) 40mm (inside)
Anodized Alloy
Centerlock brake mount
15x110mm BOOST+ (front)
12x148mm MicroSpline freehub
Quick Release Thru Axle Type
MAXXIS 27.5X2.6
(F) MINION DHF (R) REKON
Protective motor and battery covers
ISCG05 chainguuide Safety bell
VP Acrylic pedals
(No Keys)
Geometry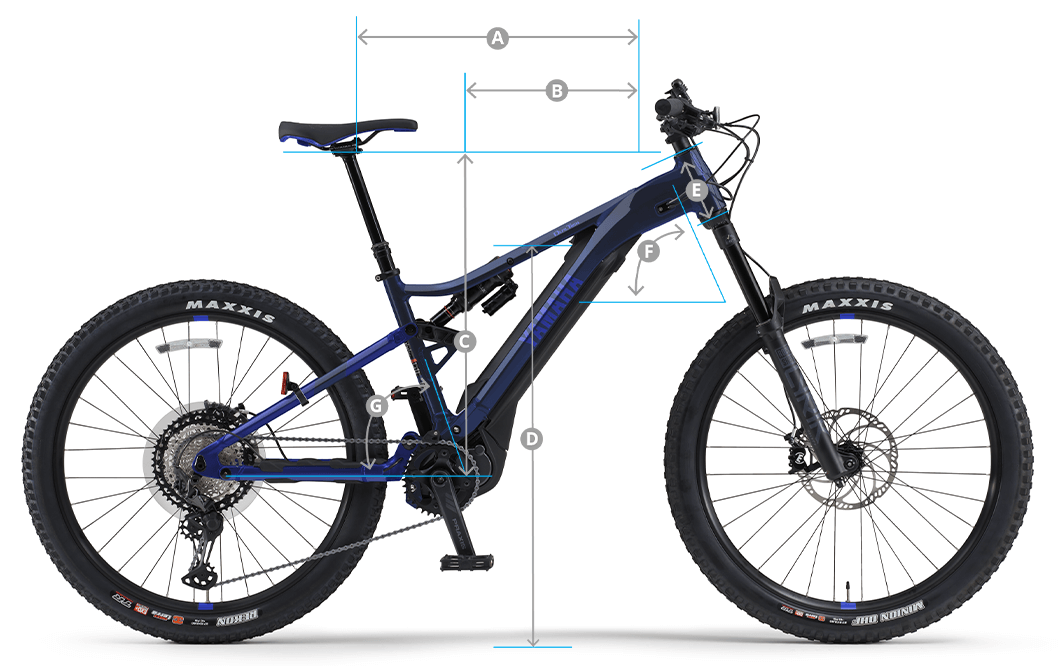 SMALL
MEDIUM
LARGE

A

TOP TUBE (mm)
572
619
666

B

REACH LENGTH (mm)
393
437
482

C

STACK HEIGHT (mm)
616
625
629

D

STANDOVER HEIGHT (mm)
741
751
759

E

HEAD TUBE LENGTH (mm)
110
120
125

F

HEAD TUBE ANGLE
66.3°
66.3°
66.3°

G

SEAT TUBE ANGLE
70.3°
70.3°
70.3°
Ride with confidence! Learn more about Yamaha's excellent warranty coverage.