FREE SHIPPING ON PARTS AND ACCESSORY ORDERS ABOVE $100
WABASH RT
The world might not revolve around us, but it can revolve under us.
Enter your ZIP code to see options for delivery or pickup.

Unparalleled adventure and versatility
28 MPH
PWSeries ST
6 LEVELS
Highlights
Gravel Specific Handlebar
Super comfortable ergonomics and exceptional strength for stability, our wide-flare handlebar is designed with ample space to fit larger-size handlebar bags for those long-haul rides.
Dual Compound Tires
Puncture protection technology, tightly packed center-knobs and wider spaced side-knobs combine to give you excellent rolling efficiency and cornering control on pavement or hard-packed earth.
Fork Rack and Fender Mounts
Suitable for many front rack and fender options, our fork design gives you the ability to customize your load carry capacity for pretty much anything and still has enough space for fenders to protect from harsh riding conditions.
Dropper Post
Often noted as one of the best upgrades you can make to your gravel bike, we've included it as a standard accessory to expand your capabilities on or off-road. If you're looking to explore further off the beaten path, this will be a game changer for you.
NEW Modes, Display, Switch
NEW Automatic Mode with 4 manual modes of smooth and powerful assist. The Display A is designed for a wide range of uses and features a simple and easy to operate display with speed and battery capacity functions.
ALL-NEW PWSeries ST Drive Unit
Our Quad Sensor System with Automatic Mode combines power with stable control. Powerful enough for the steepest climbs and controllable balance and traction for exciting descents.
SHIMANO GRX
Dedicated design for gravel riding with anti-slip brake levers and a rear derailleur originally introduced for aggressive MTB which reduces chain slap, improves chain retention and minimizes the risk of hitting rocks over rough terrain.
Integrated Hub Speed Sensor
Exclusive to Yamaha Power Assist Bicycles is a speed sensor engineered into the rear hub. Our speed sensor recognizes the slightest change in bicycle speed and helps adjust motor input to deliver a smooth and natural power assist feel for the ultimate ride experience.
Yamaha 500Wh Battery
Yamaha's proven 500 Watt-hour Lithium-ion battery pack technology is encased inside the frame with easy access to remove for charging off the bike and provides you with reliable & long-lasting energy to power your rides.
Specs
54cm (S) | 57cm (M) | 60cm (L)
Key Information
Yamaha Lithium Ion with charge-life indicator and self-diagnosis display
Side-exiting dock station with anti-vibration mounting plate\
Weight 6.61lb
500Wh 36V
4-hour charge time
L: 46.7 M: 46.4, S: 46.2 (lbs.)
Yamaha PWSeries
ST 3-bolt Mount
Square Taper Spindle
Quad Sensor System with rear hub speed sensor

Weight: 7.71lb

Rated power: 250W (Nominal), 500W (Max.)

Max. torque: 70Nm

Max. cadence support: xxxrpm

Max. speed support: 28mph

Support modes: AUTO, ECO+, ECO, STANDARD, HIGH
CONTROL SWITCH AND COMPUTER
Computer control functions include: (4) Power-level control switch, stop watch, distance units, power-level LED on/off, cycling function display items, time adjustment, LED headlamp power on/off, 3-color LED power assist level light indicator
Cycling function display include: speed, average speed, maximum speed, trip distance, odometer, cadence, battery capacity (%)
Yamaha Hydroformed Aluminum
Integrated battery
Water bottle boss
Tapered Headtube
Internal shift/brake hose routing
Fork One-Piece Aluminum
12x100mm Thru-Axle
Fender and rack compatible
Internal brake hose routing
Integrated bearing with 30mm of spacers
Yamaha Alloy 4-bolt faceplate
31.8 diameter
80mm length (S)
90mm length (M)
100mm length (L)
Flare drop
31.8mm diameter
44cm width
Alloy 30.9 x 340mm (S), 395mm (M), 440mm (L) with 2-bolt adjustable tilt saddle rail clamp
Yamaha Off-Road
Cro
-Mo Rail
Key Information
Shimano GRX 11-speed RX600
Square taper
165mm (S, M)
170mm (L)
Shimano CS-M7000
11-42t
11-Speed
Shimano GRX RX600-rear, RX400-front
180mm Centerlock
32-Hole Dual Channel Welded Pin w/ Eyeleted Spoke
Front: 12x100mm TA
Rear: 12x142mm TA with integrated speed sensor
Maxxis Rambler 700 x 45c TR EXO 120tpi
Yamaha Keys
Yamaha Battery Charger
Bell
Geometry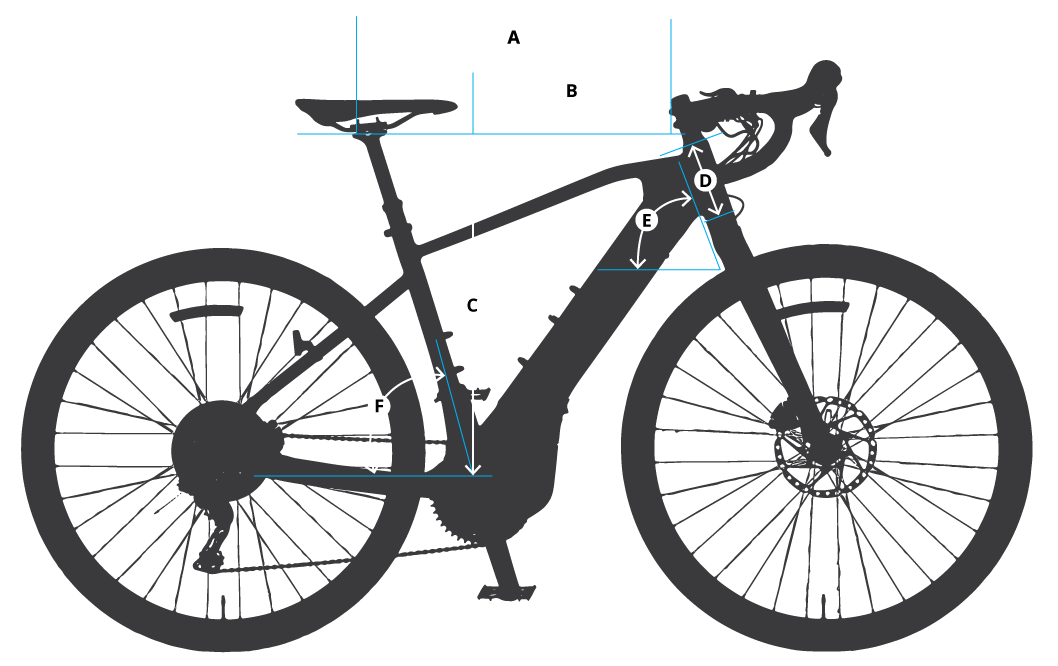 FITMENT
SMALL
MEDIUM
LARGE

A

TOP TUBE (mm)
535
565
595

B

REACH LENGTH (mm)
368
382
402

C

STACK HEIGHT (mm)
595
607
617

D

HEAD TUBE LENGTH (mm)
121
131
142

E

HEAD TUBE ANGLE
71.1°
71.8°
71.9°

F

SEAT TUBE ANGLE
74.4°
73.3°
72.6°

G

STANDOVER HEIGHT (mm)
781
818
852

H

HANDLEBAR WIDTH (cm)
44
44
44

I

CRANK ARM LENGTH (mm)
165
170
170

J

SEAT POST LENGTH (mm)
340
395
440
Ride with confidence! Learn more about Yamaha's excellent warranty coverage.