FREE SHIPPING ON PARTS AND ACCESSORY ORDERS ABOVE $100
CROSSCONNECT
Only 3 miles to the store, but somehow driving always takes 30 minutes. Redefine routine. Take the eBike! Rip down to the store! Load up the rear-rack and enjoy your new viewpoint behind bars. Pavement or bike path, explore your way.
Enter your ZIP code to see options for delivery or pickup.

Pavement or Bike Path, Explore Your Way
20 MPH
PWSeries SE
4 LEVELS
Highlights
LED Headlight
CrossConnect is equipped with a powerful LED headlight to help brighten your path. The headlight's on/off button is built into CrossConnect's multi-function display housing for easy access while riding.
Multi-Function Display
The main LCD interface allows you to choose from a full suite of functions; Speedometer, average speed, maximum speed, odometer, trip meter, battery capacity, battery range, cadence, clock and stopwatch.
Hydraulic Disc Brakes
Shimano M315 hydraulic disc brakes with 160mm rotors provide confident stopping power in all conditions.
Yamaha 500Wh Battery
Yamaha's 500 Watt-hour Lithium-ion battery pack provides reliable & long lasting energy to power your rides.
Side Stand
CrossConnect is loaded with features, so we didn't forget the little things like the convenience of an integrated side stand.
Rear Rack and Fender
CrossConnect's rear rack with integrated LED taillight can handle up to 55 lbs. of secured cargo. And the rear fender will help keep you and that cargo looking clean.
Integrated Speed Sensor
Exclusive to Yamaha Power Assist Bicycles is a speed sensor engineered into the rear hub. Our speed sensor recognizes the slightest change in bicycle speed and helps adjust motor input to deliver a smooth and natural power assist feel
Suspension Fork
CrossConnect features a Suntour NCX suspension fork to help smooth out your commute, errand or weekend ride.
PWSeries SE Drive Unit
Integrated into CrossConnect's bottom bracket, the PWSeries SE drive unit provides a low center of gravity for exceptional handling. Four levels of powerful and smooth assist deliver a ride experience the feels natural and organic.
Specs
Key Information
Yamaha 500Wh with Charge-life indicator and Self-diagnosis display
Side-exiting dock station with anti-vibration mounting plate
Weight 6.61lb
500Wh 36V
4-hour charge time
PWSeries SE
Center mount
Square taper spindle
Triple Sensor System with integrated speed sensor as part of rear hub
Weight: 7.71lb
Rated power: 250W (Nominal), 500W (Max)
Max torque: 70Nm
Max cadence support: 110rpm
Max speed support: 20mph
Support modes: ECO+, ECO, STANDARD, HIGH
CONTROL SWITCH AND COMPUTER
Computer control functions include: (4) Power-level control switch, stop watch, distance units, power-level LED on/off, Bluetooth™ connectivity, USB power, USB connectivity, cycling function display items, time adjustment, LED headlamp power on/off, 3-color LED power assist level light indicator
Cycling function display include: speed, average speed, maximum speed, trip distance, odometer, cadence, battery capacity (%)
Yamaha hydroformed and butted alluminum tubing
Internal cable/housing routing
Accessory mount
3-bolt motor mount
12 x 142 rear spacing
Integrated speed sensor harness
SR Suntour NCX 63mm, mechanical lock-out, 30mm stanchion, magnesium lowers, adjustable air sleeve
Alloy 1 1/8in steerer, 15mm thru-axle
Fender included
Integrated headset with 30mm headset spacers
Yamaha Alloy 4-bolt faceplate
31.8 diameter
80mm length (54cm, 56cm)
100mm length (58cm)
Alloy flat bar zero degree rise. 31.8mm diameter. 640mm width.
Locking ergonomic two-tone
Alloy 30.9 x 260mm (S), 315mm (M), 350mm (L) with 2-bolt adjustable tilt saddle rail clamp
Yamaha Path Plus Cro-Mo Rails
Key Information
Shimano 9-speed Sora trigger shifter. Gear selection window
Front: SHIMANO Sora (2 x 9) Braze-on
Rear: SHIMANO Sora RD-3000 GS 9-Speed
Square taper
165mm (S)
170mm (M)
170mm (L)
Shimano M315 Hydraulic Disc 160mm Front:6-bolt SM-RT 56 Rotor. Rear: Shimano SM-RT68 Centerlock Rotor
700c. Dual channel welded pin rim
Eyelet spoke holes
Width 24.5mm (OUTSIDE) 19mm (INSIDE)
Anodized
Front hub 15 x 100 TA, 6-bolt brake mount
Rear hub 12 x 142 Centerlock brake mount
Shimano freehub and Yamaha Bicycles Speed Sensor
CST E-SERIES PRO 28×1 5/8 ×1 3/8(700 x 35c) Level-6 Flat Protection Reflective Sidewall approved for eBike use
PV Tube
Yamaha keys
Yamaha battery charger
LED Headlamp
Bell
Rear rack with front/rear fenders and integrated LED tail light
Geometry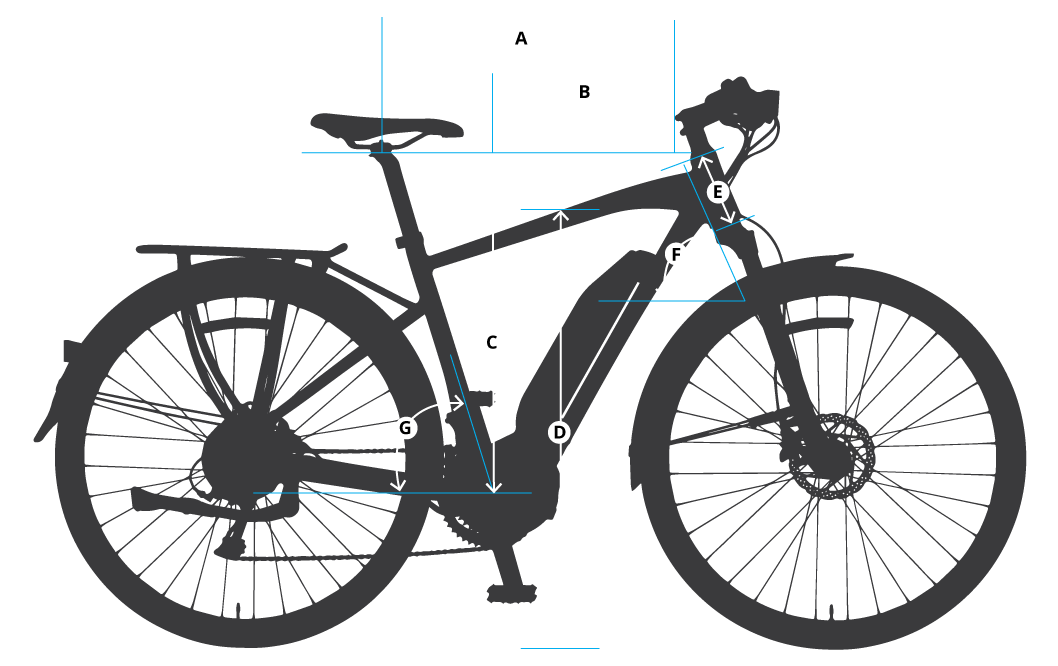 SMALL
MEDIUM
LARGE

A

TOP TUBE (mm)
544
565
580

B

REACH LENGTH (mm)
369
377
391

C

STACK HEIGHT (mm)
610
614
618

D

STANDOVER HEIGHT (mm)
749
774
797

E

HEAD TUBE LENGTH (mm)
120
120
125

F

HEAD TUBE ANGLE
70°
71°
71°

G

SEAT TUBE ANGLE
74°
73°
73°

H

HANDLEBAR WIDTH (mm)
640
640
640

I

CRANK ARM LENGTH (mm)
165
170
170

J

SEAT POST LENGTH (mm)
260
315
350
Ride with confidence! Learn more about Yamaha's excellent warranty coverage.