FREE SHIPPING ON PARTS AND ACCESSORY ORDERS ABOVE $100
CIVANTE
Integrated technology. Great comfort. Fantastic ride quality. With pedal assist up to 28mph and geometry that is comfortable at higher speeds, our proprietary drive unit feels natural and smooth so that you can enjoy the ride and get there faster. You might be big on social media, but you'll have even more followers when you're riding your Civante.
Enter your ZIP code to see options for delivery or pickup.

Challenge Yourself...And Everyone Else
28 MPH
PWSeries SE
5 Levels
Highlights
Tiagra Groupset
Shimano's durable 10-speed Tiagra groupset handles Civante's shifting duties. The double chainring (50/34T) ensures optimum gear range to conquer any climb your commute presents with ease.
Integrated Speed Sensor
Exclusive to Yamaha Power Assist Bicycles is a speed sensor engineered into the rear hub. Our speed sensor recognizes the slightest change in bicycle speed and helps adjust motor input to deliver a smooth and natural power assist feel for the ultimate ride experience.
Yamaha 500 Watt-Hour Battery
Reliable, long lasting energy to power your rides. When it's time to replenish, you can charge the battery pack on or off the Civante using the Yamaha high speed charger which quickly charges from 0-80% in about one-hour.
Hydraulic Disc Brakes
Shimano Tiagra hydraulic disc brakes with 160mm center lock rotors ensure strong, confident braking in all conditions. The Civante's fork also has mounting tabs for easy installation of Yamaha's accessory front fender.
PWSeries SE Drive Unit
Our center mount drive unit provides a low center of gravity for exceptional handling. With four levels of powerful and smooth assist up to 28 MPH the Civante delivers a ride experience that feels natural and inspires confidence.
Multi-Function Display
Large ergonomic control switches and easy to read LCD multi-function display keep you connected to your ride. The main LCD interface allows you to access BlueTooth connectivity and to choose from a full suite of functions.
Powerful and Secure
Incorporating a side exiting battery allows frame designers to decrease stand over height for increased control without sacrificing the ability to quickly remove and charge the battery. Three keys included.
Rear Rack Mounts
Want to build the ultimate commuter? Clean and hidden away, the built-in bosses on the Civante are there to accept Yamaha's accessory rear rack for those times when you need to take your gear with you.
Specs
53cm (S), 55cm (M), 58cm (L)
Key Information
Yamaha 500Wh with Charge-life indicator and Self-diagnosis display.
Side-exiting dock station with anti-vibration mounting plate
Weight 6.61lb
500Wh 36V
4-hour charge time
PWSeries SE
Center mount
Square taper spindle
Triple Sensor System with integrated speed sensor as part of rear hub
Weight: 7.71lb
Rated power: 250W (Nominal), 500W (Max)
Max torque: 70Nm
Max cadence support: 110rpm
Max speed support: 28mph
Support modes: ECO+, ECO, STANDARD, HIGH
CONTROL SWITCH AND COMPUTER
Computer control functions include: (4) Power-level control switch, stop watch, distance units, power-level LED on/off, Bluetooth™ connectivity, USB power, USB connectivity, cycling function display items, time adjustment, LED headlamp power on/off, 3-color LED power assist level light indicator
Cycling function display include: speed, average speed, maximum speed, trip distance, odometer, cadence, battery capacity (%)
Yamaha hydroformed and butted alluminum tubing
Internal cable/housing routing
Accessory mount
Fender and Rack compatible
3-bolt motor mount
12 x 142 rear spacing
Integrated speed sensor harness
Alloy, 12mm thru-axle, fender compatible, internal cable housing routed
1 1/8in steerer
Integrated headset with 30mm headset spacers
Yamaha Alloy 4-bolt faceplate
31.8 diameter
80mm length (53cm, 55cm)
100mm length (58cm)
Alloy drop bar
31.8mm diameter
40cm width (53cm)
42cm (55cm and 58cm)
Alloy 30.9 x 260mm (S), 315mm (M), 350mm (L) with 2-bolt adjustable tilt saddle rail clamp
Yamaha Road Plus Cro-Mo Rail
Key Information
Shimano Tiagra Hydraulic Disc Brake Dual Control Lever 2x10
Front: SHIMANO Tiagra (2 x 10) Braze-on
Rear: SHIMANO Tiagra GS 10-Speed
Square taper
165mm (53cm)
170mm (55cm and 58cm)
Shimano Tiagra Hydraulic Disc 160mm SM-RT68 Centerlock Rotor
700c Alloy aero rim 27mm depth
Rim width: 22.2mm (OUTSIDE) 17mm (INSIDE)
Anodized
Centerlock brake mount
front hub 12 x 100 TA, rear hub 12 x 142 Shimano freehub and Yamaha Bicycles Speed Sensor
CST XPEDIUM AMPERO 700 x 35c Level-5 Flat Protection Reflective Sidewall approved for eBike use
PV Tube
Yamaha keys
Yamaha battery charger
LED Headlamp
Bell
1-piece accessory mount for computer, control switch, bell, headlamp
Geometry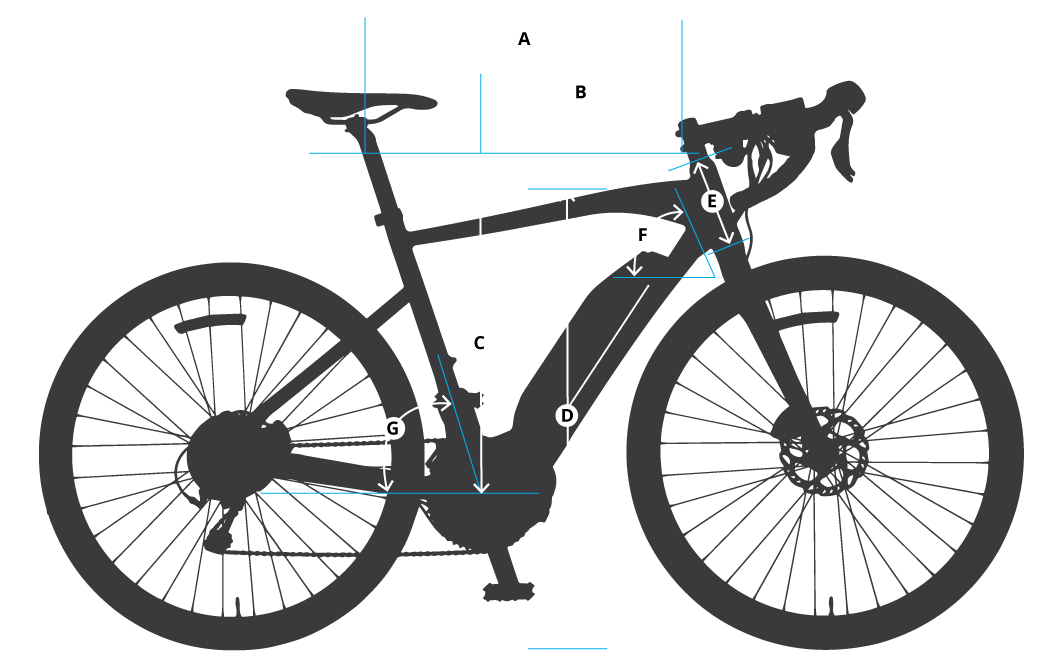 SMALL
MEDIUM
LARGE

A

TOP TUBE (mm)
530
550
580

B

REACH LENGTH (mm)
373
392
405

C

STACK HEIGHT (mm)
548
555
572

D

STANDOVER HEIGHT (mm)
725
751
797

E

HEAD TUBE LENGTH (mm)
130
135
150

F

HEAD TUBE ANGLE
71°
72°
72.5°

G

SEAT TUBE ANGLE
74°
74°
73°

H

HANDLEBAR WIDTH (mm)
400
420
420

I

CRANK ARM LENGTH (mm)
165
170
170

J

SEAT POST LENGTH (mm)
260
315
350
Ride with confidence! Learn more about Yamaha's excellent warranty coverage.