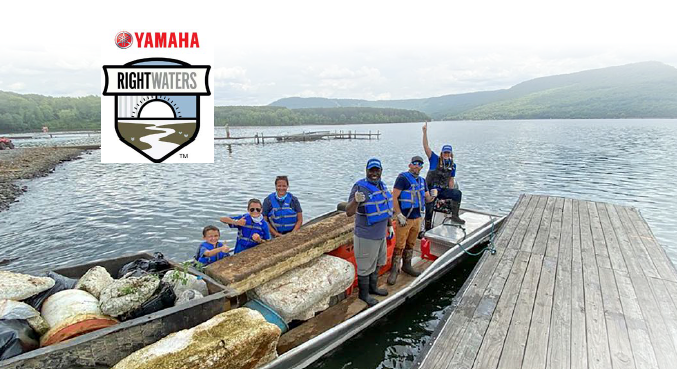 Yamaha Pro Ish Monroe Joins Forces with Keep the Tennessee River Beautiful, Youth Volunteers and Yamaha Rightwaters™ to Clean Up Nickajack Lake
Yamaha, June 3, 2021
Yamaha Pro Angler Ish Monroe teamed up with Keep the Tennessee River Beautiful (KTNRB) and a group of young volunteers on June 1 to clean up Nickajack Lake. Led by KTNRB Executive Director Kathleen Gibi, the group pulled 2,119 pounds of trash from the shoreline near the Shellmound Campground boat ramp in Jasper, Tennessee. 
"Watching these volunteers take action to make our waterways better is incredibly inspiring," said Monroe. "I applaud KTNRB's ongoing efforts to not only care for and protect the beautiful 652-mile Tennessee River, but also for encouraging and teaching the next generation about the importance of environmental stewardship." 
The volunteers, ranging in ages from 8 to 33, rode in KTNRB's 26-foot aluminum work boat, which Yamaha Rightwaters and Anderson Marine helped repower with a V MAX SHO® 90 outboard in 2020.
"I was honored to spend the day especially with the young volunteers who are making a difference," said Monroe.
Joining the event was Cash "The Conservation Kid" Daniels, a two-time KTNRB Ripple Effect Award recipient and 11-year-old water-quality advocate recognized for his hard work improving and protecting the Tennessee River.
"We had a river celebrity-studded cleanup with Cash, who inspires everyone with his passion for water quality, and Ish and the Yamaha Rightwaters team, who understand the importance of acting now so that future generations can also enjoy the river," said KTNRB'sGibi. "Working together, we hope to inspire residents of the river communities to take care of this natural treasure."
Yamaha Rightwaters began its support of Keep the Tennessee River Beautiful after meetings during the 2019 Bassmaster Classic® in Knoxville, Tenn. Yamaha Rightwaters also sponsors KTNRB's Ripple Effect Awards.
For more information about Keep the Tennessee River Beautiful or to volunteer, please visit keeptnriverbeautiful.org.