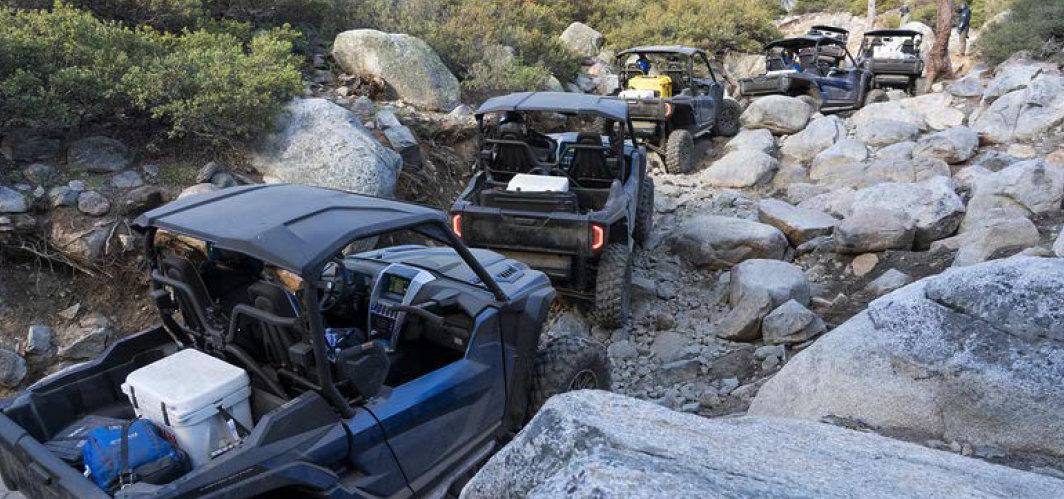 RMAX® 1000 Dominates the Rubicon Trail
Yamaha, June 15, 2021

This past week, Yamaha's all-new Wolverine RMAX 1000 verified it's Proven Off-Road prowess and further solidified itself as the class-leading recreational Side-by-Side by traversing the prestigious Rubicon Trail.
Known as the mecca for extreme off-road terrain and legendary obstacles, such as Big Sluice and Cadillac Hill, the Rubicon is a grueling 22-mile long trail located out west full of non-stop, technical rock-crawling stretches, boulderfilled sections, off-camber granite climbs and descents, and so much more – all to challenge driver and vehicle skills and capabilities alike.
Living up to the Motorsports RV Team's "REALize Your Adventure" motto, spanning a two-day expedition with camping on the trail at the renown Rubicon Springs, the Yamaha Motorsports RV Team exemplified with the media how the RMAX 1000 is the new benchmark for ultimate Capability, Comfort, and Confidence in a Side-by-Side. With a fleet of Wolverines comprised of eight RMAX2 1000 LE's, two RMAX4 1000 LE's, and two standard RMAX2 1000 models – all accessorized with Yamaha Genuine Parts and Accessories – the group successfully navigated the treacherous terrain and did so with flying colors in both directions. If that wasn't enough, with all the pounding and beating the vehicles took throughout the arduous trip, there wasn't a single mechanical failure in the group.
Conquering the Rubicon Trail is truly a challenging endeavor at this scale due to the extreme nature of the environment, but with the entire organization behind Yamaha's RV products ensuring premium quality, high-performance, tremendous capability, and unmatched versatility, the team was not only able to become the first to claim the honor of completing the effort in this capacity, but they also effectively demonstrated with the attending media how the RMAX 1000 is the most Proven Off-Road Side-by-Side in the market today.