FREE SHIPPING ON PARTS AND ACCESSORY ORDERS ABOVE $100
YDX-MORO 05
Unleash your passion for adventure with long distance refinement, impressive efficiency, and the massively powerful and super silent All-New PW-X3 drive unit to electrify your ride.
Enter your ZIP code to see options for delivery or pickup.
This model is not available for delivery or pickup in the following states: NY
Model not currently offered for sale in New York City. We apologize for any inconvenience.

POWERFUL FORCES UNDER PERFECT CONTROL
7 LEVELS
150mm TRAVEL
160mm TRAVEL
Highlights
Do You See It?
All-New YAMAHA Interface X control switch is a minimalist and ergonomic design which easily accesses the 5 support modes, walk assist and automatic support modes all in a clean handlebar aesthetic.
Like Its Hot
More internal technology than your over-priced ergonomic office chair, the travel distance on this dropper post was specially selected for every frame size to match rider size with the trail's demands.
Clean Lines For Dirty Trails
Internal Cables and Housing minimize exposure to harsh riding conditions and help maximize time between service schedules.
Bump Osmosis Technology
The long-travel and ultra-strong 160mm fork absorbs bumps like a sponge to increase riding confidence even on the most challenging trail terrain.
ALL-NEW YAMAHA PW-X3
Everything you would expect from a Yamaha. Massive power, lip-snarling responsiveness, and impressive efficiency all in a lighter and smaller package now with Garmin Edge 530, Edge 830 and Edge 1030 compatibility.
A Little Guidance Never Hurts
Directly bolted to the PW-X3 drive unit, this ISCG05 chain guide will help keep the chain in place even under the gnarliest conditions.
Paint Worth Protecting
This burley and robust chainstay protector is proprietary design by YAMAHA engineers to protect the frame from chains lapping chips to your beautiful paint job.
Patented Dual Twin Frame
The combined hydroforming and forging construction techniques created in Yamaha's patented Dual Twin frame protects components and delivers the ultimate in handing and control.
Stop Us At Anytime
With powerful two-finger brake levers and one-piece caliper construction, your bike might be two-tired but your forearms won't be.
Specs
Key Information
Yamaha 500Wh with Charge-life indicator and Self-diagnosis display
Anti-Vibration Mounting Plate
Weight: 6.61 lbs
500Wh 36V
Re-charge time: 1-hour 80%, 4-hour 100%
YAMAHA PW-X3 Class 1 Labeled Centermount ISIS SplinedCrankarm Spindle YAMAHA Quad Sensor with Automatic Support and Walk Assist Modes
Rate power: 250W (nominal), 500W(maximum)
Max torque: 85Nm
Max speed support: 20MPH
Support Modes: ECO, Standard, High, MTB, Extra-Power, Automatic, Walk Assist
CONTROL SWITCH AND COMPUTER
YAMAHA Interface X Control functions include: 3-color LED support-mode level light indicator, (5) Support-mode control switch, plus AUTOMATIC support mode (Aqua LED indicator) and Walk Assist mode (Purple LED indicator), Bluetooth™ connectivity, 3-color LED support-mode level light indicator, LED brightness adjustability, battery capacity (4-LED capacity indicators)
YAMAHA Dual Twin Frame
Tapered Headtube
Internal cable/housing routing
2-bolt drive unit mount
12x148 rear axle spacing
Integrated YAMAHA speed sensor harness
ROCKSHOX REVELATION RC
160mm TRAVEL
35mm Stanchion eMTB rated Motion Control damping with low-speed compression adjustment DebonAir air spring
ROCKSHOX DELUXE SELECT +
150mm travel
210X55mm DebonAir+ air spring with 15 clicks of rebound adjustment
2-position compression adjustment
Alloy 4-both faceplate
35.0 diameter
40mm length
Alloy
35.0 diameter
780mm width
30mm rise
TRANS-X 30.9 dia.
TRAVEL (S) 125mm (M) 150mm (L) 170mm
Key Information
YAMAHA anti-slip finish with hand rail tail
MAXLE 15MM X 110MM BOOST THRU AXLE
Front: N/A
Rear: SHIMANO DEORE RD-M6100-SGS
PRAXIS E-CRANK ARM
165mm LENGTH
Shimano SLX CS-M7100-12
12-spd
(10-51T)
MAGURA MT30
(F) 4-PISTON (R) 2-PISTON
203MM CENTER LOCK ROTOR (F/R)
Two-finger lever
YAMAHA 27.5+ Alloy
Tubeless tape installed
Width: 46mm (outside) 40mm (inside)
Anodized Alloy
Centerlock brake mount
15x110mm BOOST+ (front)
12x148mm MicroSpline freehub Quick Release Thru Axle Type
MAXXIS 27.5X2.6
(F) MINION DHF (R) REKON
Protective motor and battery covers
ISCG05 chainguuide
Safety bell VP Acrylic pedals
(No Keys)
Geometry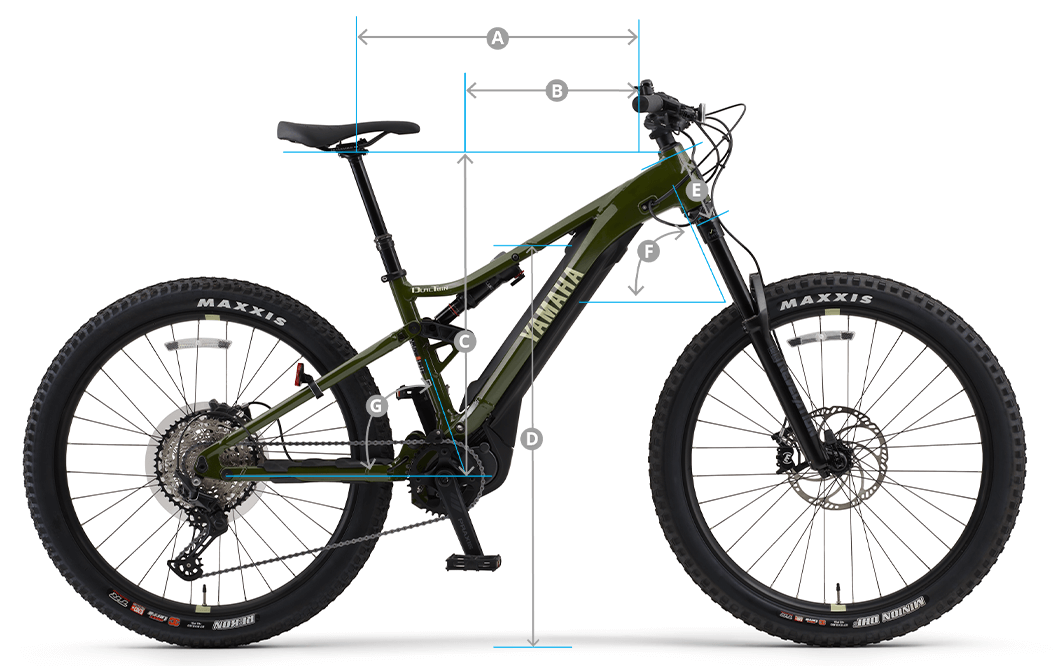 SMALL
MEDIUM
LARGE

A

TOP TUBE (mm)
572
619
666

B

REACH LENGTH (mm)
393
437
482

C

STACK HEIGHT (mm)
616
625
629

D

STANDOVER HEIGHT (mm)
741
751
759

E

HEAD TUBE LENGTH (mm)
110
120
125

F

HEAD TUBE ANGLE
66.3°
66.3°
66.3°

G

SEAT TUBE ANGLE
70.3°
70.3°
70.3°
Ride with confidence! Learn more about Yamaha's excellent warranty coverage.