FREE SHIPPING ON PARTS AND ACCESSORY ORDERS ABOVE $100
CROSSCORE RC
Made for roads and city. Point A to point B just got a whole lot sweeter. Experience the wind in your face, air in your lungs, and what life on two wheels has to offer. Enhance your everyday adventure with the new CrossCore RC. Charge. Pedal. GO!
Enter your ZIP code to see options for delivery or pickup.

Point A to point B just got a whole lot sweeter
28 mph
PWSeries ST
6 LEVELS
Highlights
500 Watt-Hour Battery
Yamaha's proven 500 Watt-hour Lithium-ion battery encased inside the frame provides you with great function, reliability, and protection.Yamaha's proven 500 Watt-hour Lithium-ion battery encased inside the frame provides you with great function, reliability, and protect
ALL-NEW PWSeries ST
With pedal assist power up to 28 mph, Yamaha's Quad Sensor System delivers assist in all conditions and offers a broad range of power assist modes that work great for many different styles of riding.
Hydraulic Disc Brakes
Hydraulic disc brakes and center lock rotors provide you with strong, dependable braking power in all conditions. Power when you want it, braking when you need it.
Easy Accessory Compatibility
Equipped with an integrated kickstand for easy stowage and tabs built into the frame for options like fenders and rear rack. Take your things with you and make it a fun trip.
LED Headlight
Equipped with a powerful LED headlight to help guide the way and easy on/off button access using the ergonomic multifunction display switch.
ALL-NEW Modes and Display
Utilizing our Quad Sensor System, the NEW Automatic Mode brings an added peace of mind to our 4-mode system for smooth and powerful assist.
Comfort Focused Suspension
Bring the smooth and easy-to-adjust comfort of the SR SuntourNEX fork. Take the thud out of small bumps and rough roads with 2.5" of cushion without losing the quick handling characteristics of the optimized frame geometry.
Integrated Speed Sensor
Engineered into the rear hub and an exclusive design to Yamaha bicycles, our speed sensor immediately recognizes the slightest change in rolling speed and adjusts motor input to deliver a smooth and natural power assist feel.
Large Volume Road and City Tire
Large volume 2" wide tires means smoother pedaling over rough surfaces for a more comfortable ride feel. Now you can comfortably stay out longer or go even further.
Specs
Casual Pavement Adventure
Road | City
Painted Desert | Shiver White | Urban Sage
Key Information
Yamaha Lithium Ion with charge-life indicator and self-diagnosis display
Side-exiting dock station with anti-vibration mounting plate\
Weight 6.61lb
500Wh 36V
4-hour charge time
52.2 (S), 52.4 (M), 52.6 (L)
PWSeries ST
3-bolt Mount
Square taper spindle
Quad Sensor System with rear hub speed sensor
Weight: 7.71lb
Rated power: 250W (Nominal), 500W (Max)
Max torque: 70Nm
Max cadence support: 110rpm
Max speed support: 28mph
Support modes: AUTO, ECO+, ECO, STANDARD, HIGH
CONTROL SWITCH AND COMPUTER
Computer control functions include: (4) Power-level control switch, stop watch, distance units, power-level LED on/off, cycling function display items, time adjustment, LED headlamp power on/off, 3-color LED power assist level light indicator
Cycling function display include: speed, average speed, maximum speed, trip distance, odometer, cadence, battery capacity (%)
Yamaha Hydroformed Aluminum
Integrated battery
Water bottle boss
Tapered Headtube
Internal shift/brake hose routing
Rack/Fender compatible
SR Suntour NEX E25. 63mm Travel
2x100mm Thru-Axle
Integrate headset with 30mm headset spacers
Yamaha Alloy 4-bolt faceplate
31.8 Diameter
80mm Length (53cm, 55cm)
100mm Length (58cm)
Alloy flat bar zero degree rise
31.8mm Diameter
640mm Width
Two-Tone Ergonomic Locking
Alloy 30.9 x 295mm (S), 345mm (M L) with 2-bolt adjustable tilt saddle rail clamp
Yamaha Urban Comfort Cro-Mo Rail
Key Information
Shimano M2010 9-Speed
Gear Selection Window
Front - Shimano Sora (2x9) Braze-On
Rear- Shimano M3100 SGS
Square Taper
165mm (S)
170mm (M, L)
SHIMANO HG400 9-Speed
11-13-15-17-20-23-26-30-36T
SHIMANO MT200 Front/Rear
SHIMANO SM RT21, 180mm Front, 160mm Rear
275" 32-Hole Dual Channel Welded Pin w/ Eyeleted Spoke
Front - 12x100mm Quick-Release Thru-Axle (QRTA)
Rear - 12x142mm QRTA with Integrated Speed Sensor
Included Kickstand
Yamaha Battery Changer
Bell
LED Headlight
Geometry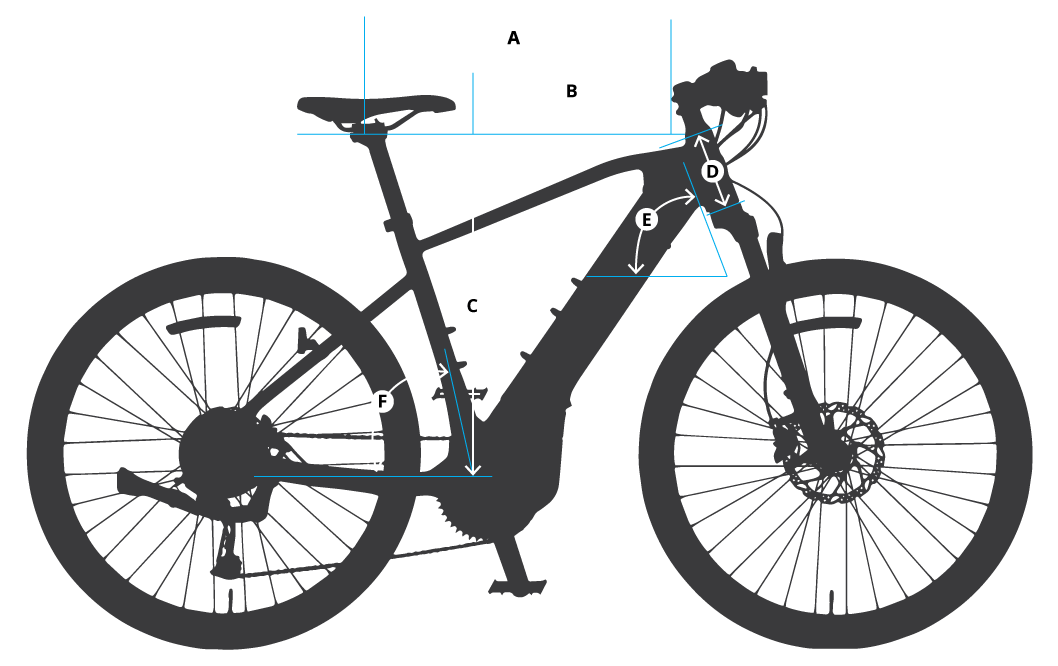 Small
Medium
Large

A

TOP TUBE (mm)
539
569
599

B

REACH LENGTH (mm)
355
370
390

C

STACK HEIGHT (mm)
603
614
626

D

HEAD TUBE LENGTH (mm)
120
130
140

E

HEAD TUBE ANGLE
69.8°
70.5°
71.1°

F

SEAT TUBE ANGLE
73.1°
72°
71.6°

G

STANDOVER HEIGHT (mm)
777
814
847

H

HANDLEBAR WIDTH (mm)
640
640
640

I

CRANK ARM LENGTH (mm)
165
170
170

J

SEAT POST LENGTH (mm)
295
345
345
Ride with confidence! Learn more about Yamaha's excellent warranty coverage.