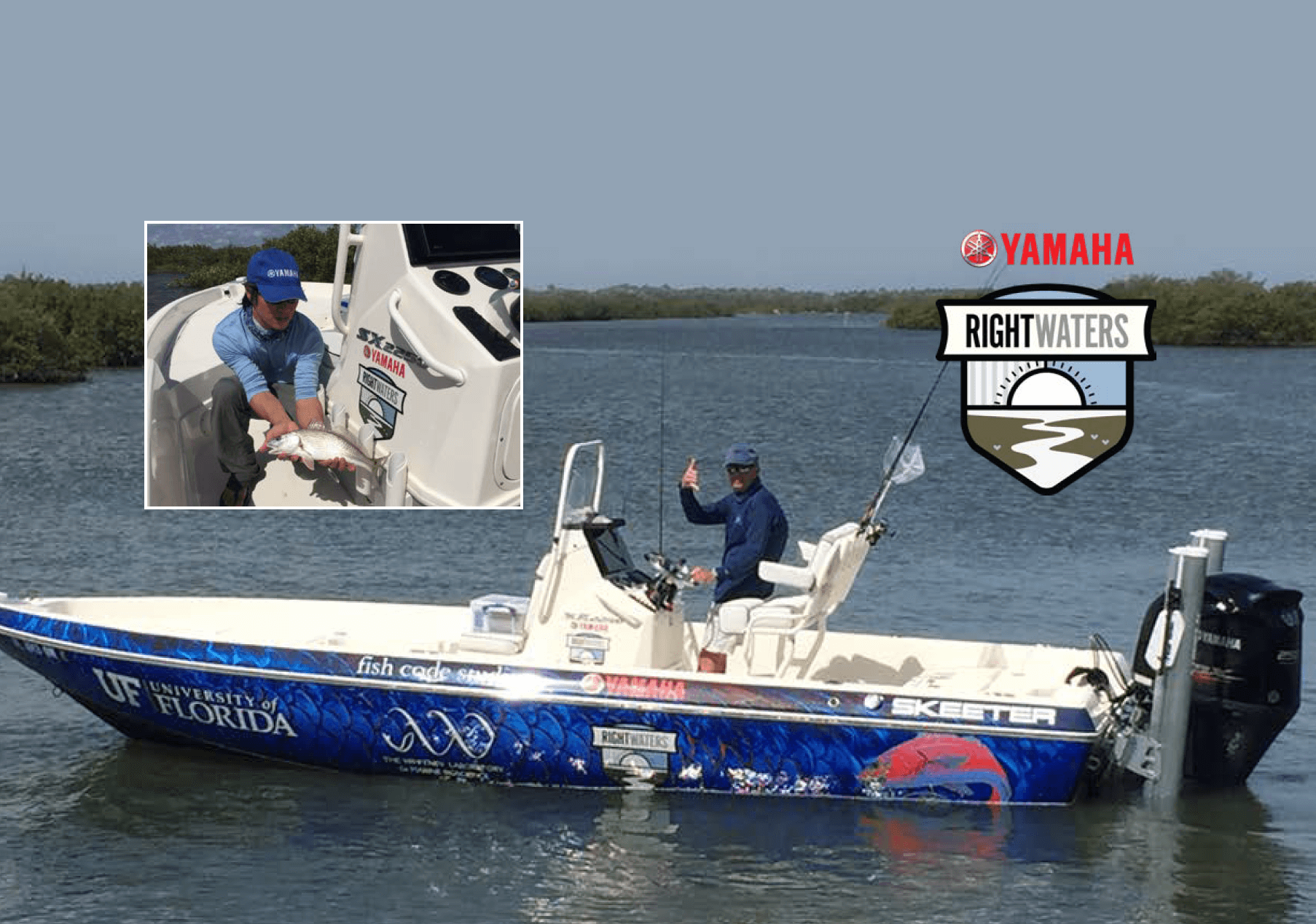 Yamaha Rightwaters™ Powers Redfish Study at University of Florida
Yamaha, March 26, 2021
Provides Boat, Outboard for Research, Tagging in North Florida
Yamaha Rightwaters is teaming up with Skeeter Boats to provide a SX2250 center console boat with a 250-horsepower Yamaha V MAX SHO® outboard to the University of Florida. Scientists in the University's Whitney Laboratory for Marine Bioscience will use the boat and outboard to conduct a study on redfish activities and numbers to gather better data on the species in Northern Florida.
"The root of successful conservation begins with in-depth knowledge of the species and areas you are trying to protect," said Dr. Jimmy Liao, Ph.D., marine biologist focusing on fish sensing and fish behavior at the University of Florida. "We will use this boat and outboard to tag and track the behavior of redfish in a 35-mile radius of northeastern Florida. The more data we collect, the better our understanding of the redfish becomes, and with that understanding comes the ability to better manage the fishery. The Yamaha Rightwaters and Skeeter teams recognize the important relationship between conservation and growth in the recreational fishing and boating industry, and we are grateful for the support."
The University of Florida's redfish study has three components. The first is tagging the fish to get a better idea of the exact number in the area. The second is studying the migration patterns of the fish to determine which habitats are preferred by the adult breeders and which make good nursery sites for the juvenile fish. The acoustic tags the scientists use can pick up signals from Canada to Cuba. Finally, the third aspect of the program focuses on seeding fisheries with redfish bred by the University and tracking the number of juveniles that return to the fisheries.
"Scientific research is one of the four cornerstones of the Yamaha Rightwaters mission," said John O'Keefe, Senior Specialist, Government Relations, Yamaha Marine U.S. Business Unit. "This redfish study currently underway at the University of Florida will give state officials the information they need to manage this fishery properly so that it may grow in a healthy sustainable manner and continue to be enjoyed for generations to come."
Yamaha Rightwaters is a national sustainability program that encompasses all of Yamaha Marine's conservation and water quality efforts. Program initiatives include habitat restoration, support for scientific research, mitigation of invasive species, the reduction of marine debris and environmental stewardship education. Yamaha Rightwaters reinforces Yamaha's long-standing history of natural resource conservation, support of sustainable recreational fishing and water resources and Angler Code of Ethics, which requires pro anglers to adhere to principles of stewardship for all marine resources.