​​​When it comes time to change the engine oil in your motorcycle, scooter, ATV, Side-by-Side, or snowmobile, there is no better choice than Yamalube.
Why?
Yamalube's line of care and maintenance products is formulated and manufactured to Yamaha's stringent standards of quality. The very engineers who design high-performance Yamaha engines consult on the formulation of each Yamalube oil to be engine/application-specific and to meet/exceed industry standards like JASO MA. In other words, nothing enhances the performance or protects the advanced design of a Yamaha quite like Yamalube.
Yamalube engine oils also meet or exceed Powersports industry standards for protection and performance. Each one of our Yamalube products undergoes rigorous testing and has been proven to provide the performance and protection demanded by today's advanced technology.
What are the benefits of using Yamalube engine oils?
Maintains its viscosity and characteristics
Provides balanced anti-friction protection
Specifically formulated for wet centrifugal clutch performance
The Yamalube family of products are the only products engineered to meet the unique demands, operating characteristics, and applications of Powersports products.
To protect your machine from the wear and tear of daily use, refer to your owner's manual, or contact your local authorized Yamaha dealer, for recommended products to enhance the performance, lower ownership costs, and extend the life of your Yamaha.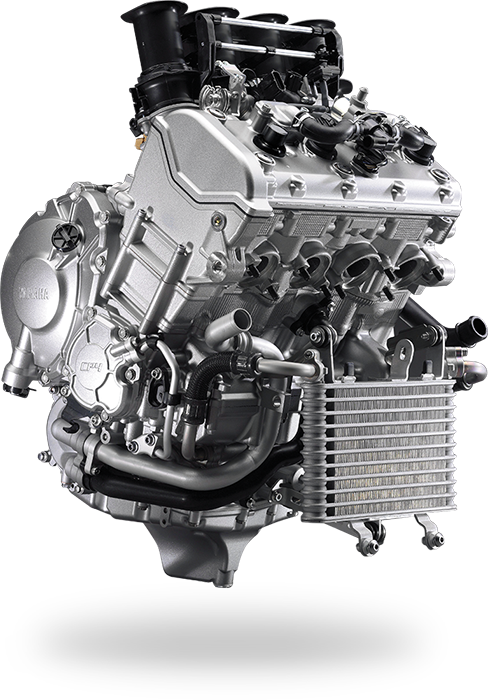 ​This History of YAMALUBE
In the Mid-1960's Mr. Leo Lake, National Service Manager for then Yamaha International Corporation realized the sportcycle market needed a high quality oil that enhanced reliability, durability and dependability because "off-the-shelf" automotive oils simply didn't live up to Yamaha's standards.

After some service issues in the early '60s, Leo pursued the lubrication side of the problem for the next two years, convinced it had to do with lubrication and not the engine itself. After having tested hundreds of combinations Leo developed a blend that in 1967 became the iconic YAMALUBE brand and to this day we still embrace his uncompromising commitment to quality and performance.
Simply put, Yamalube is the only oil "built around" the unique demands, operating characteristics, and applications of not only Yamaha engines, but all Powersport engines.
Yamalube Recommended for Yamaha's Flagship Sportbike - The YZF-R1 (CP4 Engine Shown)

For the next 25 years Yamalube was recommended by Yamaha in the owner's manuals and in 1992, Yamaha Motor Corporation Japan, formed the first Yamalube Oil Committee that consisted of Yamaha engine design engineers and our own oil specialists. This committee was tasked with approving and maintaining quality control over all proprietary Yamalube oil blends. Within the year, the committee had standardized land 2 stroke and 4 stroke specifications and by the end of the year help implement the JASO (Japan Automotive Standard Association) mark, a mark guaranteeing the performance of this classification. By '93 the Yamalube name was granted a global trademark and is now in over 117 countries.
As a new era was ushered in, so were new advancements in technology, chemistries, materials, and processes, and in 2007, Yamalube saw a chance to re-formulate the complete line to pull further away from the competition. Not that anything was wrong with the current formulation, but as Yamaha engine technology advanced so did the need for even more complex oil formulations.